Theatre Talk
Tuesday 26/01/2021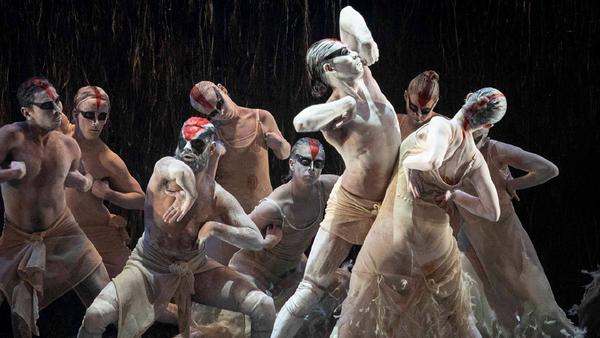 On stage: Bangarra Dance Theatre's Spirit: a Retrospective 2021.
Credit: Lisa Tomasetti
Theatre Talk || Bangarra Dance Theatre returns to Tamworth
Bangarra Dance Theatre is Australia's leading Aboriginal and Torres Strait Islander performing arts company and this February, Bangarra return to Tamworth at TRECC on Saturday 20 February at 7:30pm.
This is the first time in ten years that Bangarra have visited Tamworth and we welcome them with their latest productionSpirit: a retrospective 2021, a powerful collection of dance stories chosen from its 31-year repertoire.
Featuring the full Bangarra ensemble of 17 dancers, Spirit draws from a selection of the company's most celebrated works, comprising of Brolga (Corroboree), Black (Ochres), Yellow (Ochres), Dingo (Skin), White (Ochres), Moth (Bush), Two Sisters (Bush), The Call (Walkabout), and In Her Mind (Nyapanyapa).
Set to a haunting score, Spirit invites audiences to connect with stories and song lines drawn from all over Australia, in a celebration of First Nations Peoples' unbroken connection to the land.
MAMMA MIA!
Tamworth Musical Society will transform the Capitol Theatre stage into a Greek Island paradise when they burst onto stage in a brand-new production of one of the world's favourite feel-good musicals, MAMMA MIA!
Featuring hit after hit from the incredible songs of ABBA including Dancing Queen, Voulez Vous, S.O.S, Take a Chance On Me and The Winner Takes It All, MAMMA MIA! tells the hilarious and heart-warming story of a young woman's search for her birth father.
On the eve of her wedding, a daughter's quest to discover the identity of her father brings three men from her mother's past back to the island they last visited 20 years ago.
Tickets are on sale now for the hugely popular musical, an hilarious and heart-warming show that will deliver a huge amount of fun to all that grab their tickets for the upcoming season.
Don't miss Tamworth Musical Society's 'Made in Tamworth' production of this joyous and uplifting musical from 5 March - 20 March over thirteen performances including matinee and evening performances.