Rosencrantz and Guildenstern Are Dead
16 - 24 Aug

- Capitol Theatre
Presented by Tamworth Dramatic Society
Astonishingly funny with a glorious range of jokes!
Hailed as one of the most important plays of the 20th century, Rosencrantz and Guildenstern are Dead, tells the comic and tragic story of two minor characters originally portrayed in William Shakespeare's Hamlet.
Tom Stoppard's play poses many questions about the absurdity of life and its meaning. Throughout the play no clear answers are provided, but as the two characters comically stumble their way in and out of the action Stoppard demands that the questions be seriously considered.
"There must have been a moment, at the beginning, were we could have said – no. But somehow we missed it." - Guildenstern
This Tamworth Dramatic Society 'made in Tamworth' production, directed by Glendon Fletcher, is a bright, funny and immersive production that will appeal to lovers of contemporary cutting edge theatre and classic plays alike!
For School Booking Information CLICK HERE
Director
Glendon Fletcher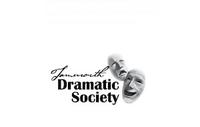 DINNER & A SHOW?
Start your theatre experience with a sumptuous 3 Course Meal at Deco Wine Bar & Restaurant. Just click the Deco Dinner & Show Package option when purchasing your tickets to this show.
If you have already purchased your tickets and would like to add the Dinner Deal, simply click the image below and follow the prompts...

Dinner and Show or Dinner Deals go off sale on the day of the event. Book early as our allocation may exhaust prior to this. Please contact Deco Wine Bar & Restaurant directly on 6766 7260 to make a reservation.